Type 1:
HP AT895AA Laptop AC Power Adapter 19.5V/11.8A 230W
Replacement HP AT895AA laptop ac power adapter is rated at 19.5V/11.8A,230W With 7.4*5.0mm with Pin.you can see the adapter at the picture at the list: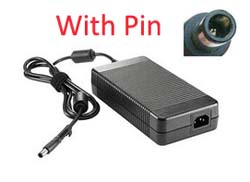 You can upgrade your laptop with the hp Laptop Adapter if you are using any of the following adapters to charge your laptop:
HP HSTNN-DA12S, HP HSTNN-XA12, HP 613159-001, HP H1D36AA, HP 533143-001, HP 535592-001, HP 583892-800, HP 608432-001, HP 609946-001, HP HSTNN-LA12, HP PA-1231-66HH, HP PA-1231-66HV, HP HSTNN-DA12, HP AT895AA
The HP laptops that are compatible with the hp AC Laptop Adapter are:
HP Omni 27-1200, HP Omni 27-1200a, HP Omni 27-1200ed, HP Omni 27-1200ee, HP Omni 27-1200ej, HP Omni 27-1200er, HP Omni 27-1200es, HP Omni 27-1200eu, HP Omni 27-1200ev, HP Omni 27-1201a, HP Omni 27-1201ed, HP Omni 27-1201el, HP Omni 27-1201es, HP Omni 27-1202ed, HP Omni 27-1209eo, HP Omni 27-1210eb, HP Omni 27-1210et, HP Omni 27-1210xt CTO, HP Omni 27-1215ef, HP Omni 27-1225ef, HP Omni 27-1260ez, HP Omni 27-1265ef, HP EliteBook 8540w, HP EliteBook 8740w, HP EliteBook 8750w, HP EliteBook 8760w, HP EliteBook 8770w, HP ProBook 4730s
type 2:
HP 19V 12.2A 230W Laptop AC Adapter
Replacement HP HP-A2301A3B1 LF laptop ac power adapter is rated at 19v 12.2A 230W With 7.4*5.0mm no Pin.you can see the adapter at the picture at the list:
The laptop AC Adapter is a high-performance adapter. When it is plugged into an electrical power outlet, it lets you work on your notebook while charging your battery. You can take this portable power source with you, wherever you go. It is very lightweight and compact, so you can easily slip it into your laptop case. The HP Laptop Adapter has a 3-ft wire cord with a 3-prong wall plug. Its long cord gives you more flexibility to position your laptop wherever you want, as you use it.
The HP Power Adapter replaces the following part numbers: HP HP-A2301A3B1 LF
The HP laptops that are compatible with the hp AC Laptop Adapter are:HP Compaq Elite 8300, HP TouchSmart IQ800, HP TouchSmart IQ804, HP TouchSmart IQ804t CTO, HP TouchSmart IQ810de, HP TouchSmart IQ810es, HP TouchSmart IQ810fr, HP TouchSmart IQ810it, HP TouchSmart IQ810la, HP TouchSmart IQ810me, HP TouchSmart IQ810uk, HP TouchSmart IQ811jp, HP TouchSmart IQ815, HP TouchSmart IQ816, HP TouchSmart IQ816cn, HP TouchSmart IQ816t CTO, HP TouchSmart IQ817jp, HP TouchSmart IQ818a, HP TouchSmart IQ818d, HP TouchSmart IQ820, HP TouchSmart IQ820ch, HP TouchSmart IQ820de, HP TouchSmart IQ820es, HP TouchSmart IQ820fr, HP TouchSmart IQ820it, HP TouchSmart IQ820la, HP TouchSmart IQ820me, HP TouchSmart IQ820sc, HP TouchSmart IQ820uk, HP TouchSmart IQ821jp, HP TouchSmart IQ826cn, HP TouchSmart IQ826t CTO, HP TouchSmart IQ827jp, HP TouchSmart IQ828d, HP TouchSmart IQ828hk, HP TouchSmart IQ830, HP TouchSmart IQ830be, HP TouchSmart IQ830ch, HP TouchSmart IQ830fr, HP TouchSmart IQ830it, HP TouchSmart IQ830nl, HP TouchSmart IQ830sc, HP TouchSmart IQ830uk, HP TouchSmart IQ832jp, HP TouchSmart IQ836cn, HP TouchSmart IQ837jp, HP TouchSmart IQ838hk, HP TouchSmart IQ840, HP TouchSmart IQ840, HP TouchSmart IQ842fr, HP TouchSmart IQ843hk, HP TouchSmart IQ844jp, HP TouchSmart IQ845uk, HP TouchSmart IQ846, HP TouchSmart IQ846t CTO, HP TouchSmart IQ848cn, HP TouchSmart IQ848hk, HP TouchSmart 610-1200, HP TouchSmart 610-1200ad, HP TouchSmart 610-1200be, HP TouchSmart 610-1200it, HP TouchSmart 610-1200me, HP TouchSmart 610-1200nl, HP TouchSmart 610-1200pt, HP TouchSmart 610-1200ru, HP TouchSmart 610-1200sc, HP TouchSmart 610-1201nl, HP TouchSmart 610-1201ru, HP TouchSmart 610-1202es, HP TouchSmart 610-1202ru, HP TouchSmart 610-1203ci, HP TouchSmart 610-1203es, HP TouchSmart 610-1203ru, HP TouchSmart 610-1203sa, HP TouchSmart 610-1210a, HP TouchSmart 610-1210ch, HP TouchSmart 610-1210kr, HP TouchSmart 610-1220a, HP TouchSmart 610-1220fr, HP TouchSmart 610-1220jp, HP TouchSmart 610-1230a, HP TouchSmart 610-1230fr, HP TouchSmart 610-1230jp, HP TouchSmart 610-1230uk, HP TouchSmart 610-1240fr, HP TouchSmart 610-1240la, HP TouchSmart 610-1250xt CTO, HP TouchSmart 610-1260la, HP TouchSmart 610-1262la, HP TouchSmart 610-1265la, HP TouchSmart 610-1268tw, HP TouchSmart 610-1270uk, HP TouchSmart 610-1278d, HP TouchSmart 610-1280d, HP TouchSmart 620-1000, HP TouchSmart 620-1010in, HP TouchSmart 620-1080, HP TouchSmart 620-1088d, HP TouchSmart 620-1088hk, HP TouchSmart 620-1100, HP TouchSmart 620-1110, HP TouchSmart 620-1120a, HP TouchSmart 620-1120jp, HP TouchSmart 620-1130a, HP TouchSmart 620-1130jp, HP TouchSmart 620-1150kr, HP TouchSmart 620-1170, HP TouchSmart 620-1188d, HP TouchSmart 620-1189d, HP TouchSmart 620-1199d