Replacement IBM Laptop AC Adapter/Power Supply/Charger List:
IBM Compatible Laptop AC Adapter for your laptop. Best prices for your IBM laptop ac adapter.The replacement IBM AC Adapter is specially designed for the original IBM Power AC Adapter. We are a manufacturer which specializing in research, manufacture and sales of the highest quality new IBM Laptop Charger with reasonable prices. Your first step is to choose your ibm model or code from the list below.

IBM AC Adapters Warranty
100% compatible with OEM adapter.
Full 1 year warranty.60 days money back guarantee!
Brand new in box, never used, premium quality.
Listed by Parts No.
List By Laptop Model.
---
IBM Laptop Power Supply Features:
1.Brand new replacement IBM laptop ac adapter
2.Original standard designed
3.Sufficient output power
4.Small output voltage ripple
5.High accuracy of output voltage
6.Smart device surge protection ,OVP ,OCP ,SCP
7.Strong built for heavy duty and long usage performance
8.Triple tests before packing ensure the reliable quality

Important: Please make sure the DC Output & Connector size are accordant!
Soft Tip: Adapter in the Same DC Output & Connector size Could works in different Brands Laptops. That's why some of our listings show that the same adapter compatible to other band.
In order to protect your laptop, please use your adapter as the following picture shows:


---
How to Choose an IBM AC Adapter?
There are 3 primary factors you need to consider before buying an IBM ac adapter:
Voltage / Amperage / Tip
1.Make sure your original adapter's voltage (V1) is the same with our adapter (V2)(a difference under 1V is okay to accept):
V1=V2(a difference under 1V is okay to accept)
2.Make sure your original adapter's amperage (A1) is the same as our adapter (A2) ,
Or lower than ours': A2>=A1
3.Make sure your original adapter's tip is the same with ours , ( note the tip's size and shape )

Laptop Adapter/Charger Inside Part & Exegesis By Laptopadaptercharger.com.au: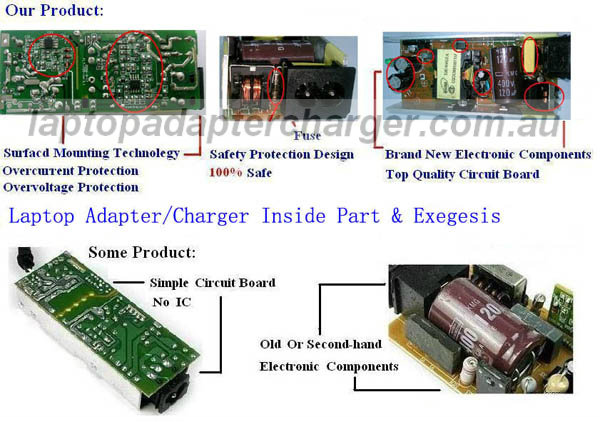 ---
All brand names, logos, and trademarks referenced on this site remain the property of their respective owners. They are used to demonstrate compatibility for descriptive purposes only. www.laptopadaptercharger.com.au is not affiliated with, authorized by, licensed by, distributors for, nor related in any way to any brand name manufacturers. We do not sell original name-brand laptop ac adapters. Use of the site constitutes acceptance of our Terms and Conditions.