Replacement Toshiba Satellite L15 Charger
Replacement & Original Toshiba Satellite L15 Laptop AC Power Adapter (19V/3.42A 65W) And Free Power Cord
Replacement & Original Toshiba Satellite L15 AC Adapter 19V 3.42A 65W - Toshiba Satellite L15 laptop ac power adapter is rated at 19V/3.42A,65W.Lightweight, compact and easy to carry wherever you go, the laptop adapter for Toshiba Satellite L15 will enable you to work on your laptop and charge its battery simultaneously.laptop AC adapter for Toshiba Satellite L15 is CE,ROHS,TUV-R,TUV-S,UL certified with full year warranty.

Input : AC100-240V
Output : DC19V 3.42A
Power : 65W
Connecter size : 5.5*2.5mm
Item Includes : AC Adapter and Power Cord For Your Country
You can Select:
Replacement
Original

Quantity
Unit Price (AU$)
2-5
6-10
11-30
Order More? Click Here to contact us


---
Environmentally Responsible and Stringent Quality Standards:


Laptop AC Adapter with ce rohs certificate.Satellite L15 AC adaptor as an environmentally responsible adapter upgrade solution with RoHS certification that insures that our laptop ac adapter is free of lead, cadmium and mercury.

This toshiba satellite l15 charger is the highest quality product you can buy which has passed international certification( CE, UL, ROHS, ISO9001/9002 ).The power adapter is an invaluable tool for a laptop to get power supply safely. Hence, if the original adapter for your laptop is broken or malfunctioned, you should immediately get a new one to power on your computer and this adapter would be the best replacement.

With latest technology, this adapter is specially designed with built-in protection to protect your computer against unexpected power surge damages. Besides, it also features stable voltage and noise reduction.Overall, this power adapter is of high efficiency and reliability
---
Replace Part Number:
Toshiba PA3396U-1ACA, Toshiba SADP-65KB, Toshiba PA3714U-1ACA, Toshiba PA3714U, Toshiba PA3396U, Toshiba PA3396E, Toshiba PA3396E-1ACA, Toshiba PA3467E, Toshiba PA3467E-1ACA, Toshiba PA3714E-1AC3, Toshiba PA3917U-1ACA, Toshiba PA3917E-1ACA
---
Fit laptop and notebook pc models:
Toshiba Satellite A110, Toshiba Satellite A80, Toshiba Satellite A85, Toshiba Satellite L10, Toshiba Satellite L15, Toshiba Satellite L20, Toshiba Satellite L25, Toshiba Satellite M30X, Toshiba Satellite M35X
---
KEY FEATURES:
Note:All Replacement Products in our store made by third party manufacturer.Compatible or third party adapters are made to the same or equivalent standards as your original equipment manufacturer's (OEM) product. This means that you can expect the same voltage, DC jack size, and other specifications as you would from your manufacturer.
Brand New Replacement Product,works as genuine parts,100% OEM Compatible
Toshiba Satellite L15 Charger Come with Power cord, Free!!
Over all protection OVP / OCP / SCP / OTP .
Certificates:CE, ROHS, REACH, FCC, ERP, CB, GS, TUV, UL, CUL, CCC,PSE
Original standard designed
Sufficient output power
Small output voltage ripple
High accuracy of output voltage
Strong built for heavy duty and long usage performance
60 Day Money Back Guarantee. We stand behind our products because we know we have the best for you.
---
Laptop Adapter/Charger Inside Part & Exegesis By Laptopadaptercharger.com.au: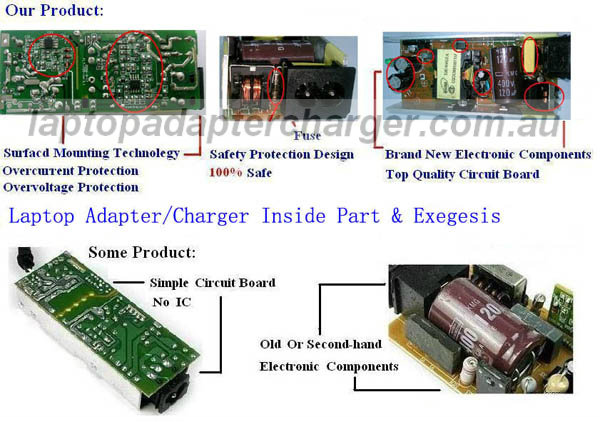 ---
All brand names, logos, and trademarks referenced on this site remain the property of their respective owners. They are used to demonstrate compatibility for descriptive purposes only. www.laptopadaptercharger.com.au is not affiliated with, authorized by, licensed by, distributors for, nor related in any way to any brand name manufacturers. We do not sell original name-brand laptop ac adapters. Use of the site constitutes acceptance of our Terms and Conditions.